Organization Description
The Iowa State Federation of Square and Round Dance Clubs is composed of Local Organizations known as a Federation or Association.  Each Local Organization contains area Clubs or Organizations. The clubs or organizations can be any of the following: a Square Dance Club, a Round Dance Club, a Clogging Club or the Callers/Cuer Association for that reqion.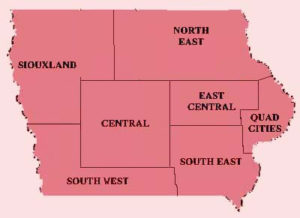 The Above Image shows the approximate Boundaries
for each of the Seven Local Organizations in Iowa.
To find the local content for any of the Regions Listed Above
click the "Associations, Federations and Club"
in the Navigation Menu